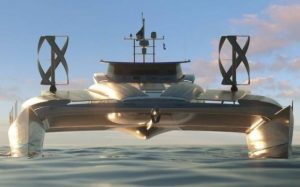 It is called the Energy Observer and it will be the first green powered ocean going vessel to navigate the world using renewable energy produced as it sails along. The boat is currently undergoing its final preparations in Saint Malo, France and the builders hope to launch their around the world cruise sometime early in 2017.
The boat will be powered by hydrogen and by solar, as well as the wind, and other renewable energies that the vessel will manufacture. The Energy Observer is currently undergoing its final fitting and installations which includes wind turbines and solar panels. The boat will also be outfitted with electrolysis technology that will convert ocean water into oxygen and hydrogen.
Victorien Erussard, 37, a merchant marine naval officer, will be accompanied on the journey by Jacques Delafosse who is a friend as well as professional scuba diver and documentary film maker. He explained that the batteries on the boat will be what powers the engines in all kinds of expected weather out on the world's oceans.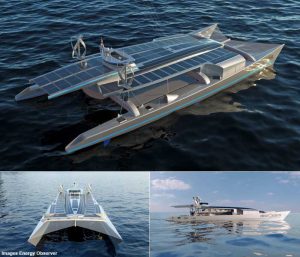 "We are going to be the first boat", Erussard said, "with an autonomous means of producing hydrogen. If there's no sun or wind, of if it's night, stored hydrogen will take over powered by the solar panels and the two wind turbines."
The Energy Observer has been around since 1994 when it won a sailing race around the world. It was bought and the refitting has begun to turn it into a self sustaining vessel. Many environmentalists and leading French politicians and business people are on board with the project. They see it as the future of ocean going vessels as well as having the possibility of adapting the technology to future home building.
The Energy Observer is expected to be at sea for about six years. That is how long the builders believe it will take them to travel around Earth. They will ease themselves out of the Mediterranean Sea and then out onto the open waters of the Atlantic Ocean. The boat will stop at 101 different places along the way including Australia, India and Cuba.
PHOTO CREDIT: Energy Observer