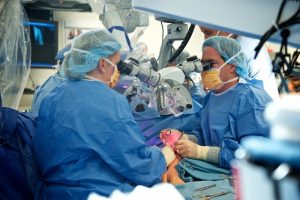 On Wednesday, a former Marine Corps Sergeant, wounded in Afghanistan, received a double arm transplant at Brigham and Women's Hospital in Boston. John Peck, 31, received two arms, provided by an anonymous donor, in a 13 hour operation headed by surgeon Dr. Simon Talbot who is the hospital's director of upper body transplants.
Peck received word that donor arms had been found and, less than 24 hours later, he left his home in Virginia and headed for Boston for the operation. Peck had been hit by an IED in Afghanistan and had both of his arms, as well as both of his legs, blown off. He became a quadriplegic nearly six years ago and had been on a donor waiting list for more than two years.
Though the donor wished to remain publicly anonymous, Peck managed to express his gratitude anyway when he said that, "Your loved one's death will not be for nothing. I will remember his selflessness and his gift until the day I die."
Much of the surgery was so exacting that a part of it had to be performed under a microscope. Mostly because the stitches that were being used were as thin as human hair for the most part. Peck said his new arms felt strange to him and he had some nerve sensation in them. Dr. Talbot explained that it would be some months before Peck felt like the new arms were really his.
He can lift his arms but there is still severe swelling which will take some time to disappear. Peck's fiancee, Jessica Parker, 29, was with him every step of the way and both were overcome when Peck cried out that he had hands. Since his war wounds, Peck has been working back home with his prosthetic arms and legs and it has been a long and painful and emotionally draining journey.
His ultimate dream, right now, it to become a chef.
PHOTO CREDITS: The Boston Globe / The Chicago Tribune / The Washington Post